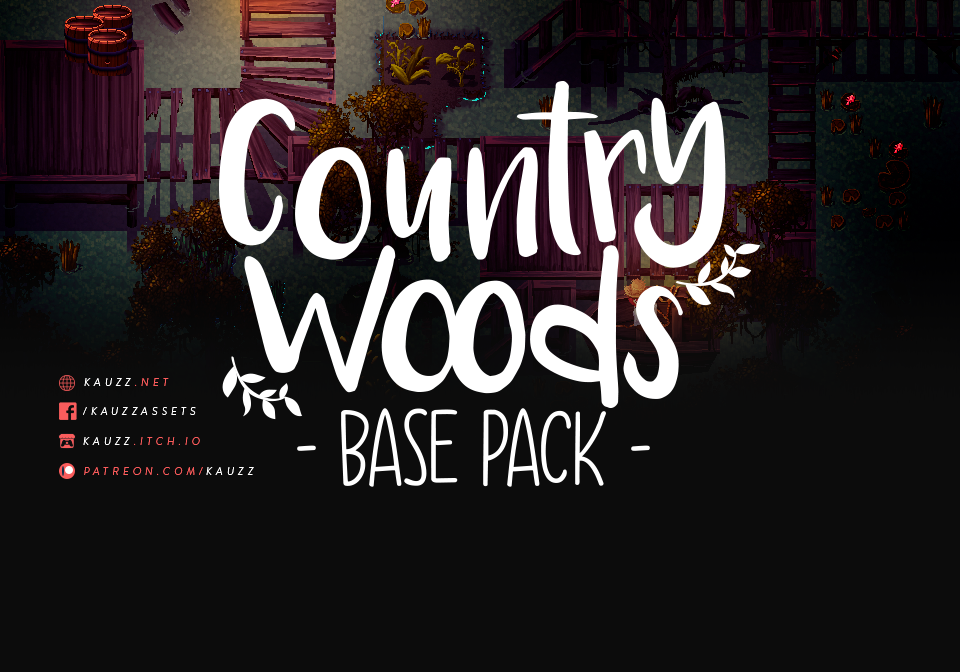 Country Woods - Base pack (48x48)
A downloadable countrywoods



Get a discount on this same pack buying him on my website!

Country Woods
Base Pack


Buy this asset key on my website with discount! ($9.90)
Country Woods is a base pack based on some other styles of tileset and on other collection mine, called Pixel Art Forest Plataformer. This tileset use more non-saturated colors, and I avoid use anti-aliasing on the shapes, leaving the pixels more visibles. This collection is based on 40's - 90's, and contains high inspirations on Victorian styles. The idea of this pack is elevate the idea from the "medieval" rpgs, bringing some old assets but not too ancient from medieval age. I pretend to expand and give priority to this pack if the results of sales was good, working on new biomes, areas, and maybe dedicating entire packs to make only one kind of tiles (one complete pack about forests, for example).
This pack is made on 48x48 scale, but you can adapt for your project, and depending the size of the sprites of your project you can use with 32x32 scales too. The spritesheet are in Rpg Maker MZ and Rpg Maker MV format (all the frames in one sheet) and you can split them on your engine (since the sizes is 48x96)

Caution: The Light Effect isn't included

This pack contains (38+ files):
Props(756x756):
- 1 tileset to make farms
- 1tileset to make swamps
- 1 tileset to make houses(exterior) and caves
- 1 tileset to make houses(interior)
- 1 tileset with edits (+ preset houses and editions)
- 1 tileset with roofs (houses)

Autotiles:
- 1 water tileset | with 8 different water pieces (recolor) and waterfalls
- 1 ground tileset | with grass, bushes, roads, paths, cliffs and etc
- 1 wall tileset | with walls and cliffs
- 1 floor tileset (with 20+ pieces of floors)

Sprites:
- 30 sprites (3 framed) with 12 different poses
- 2 trees animated (wind)
- 1 smoke sprite
- 26 doors sprites

Recolors/edits
- 1 recolored tileset (A4)
- 2 recolored tileset (A1)
WARNING: This pack is on early access and the price can be modified when the final pack is available!

License:
– Commercial or non-commercial projects. –
Any engine: Unity, Construct, Game Maker, RPG Maker… allowed
– You are allow to use in whatever you want.
– Modifys and adaptations allowed too
– Don't need a copyright notation (don't need credits)
- Not allowed to repost, sell the tiles, or upload the tiles separately

Warning: This pack have some painting style differente from my other packs, but they are very soft, and you can use both in the same map.
Support me on Patreon for free and exclusive assets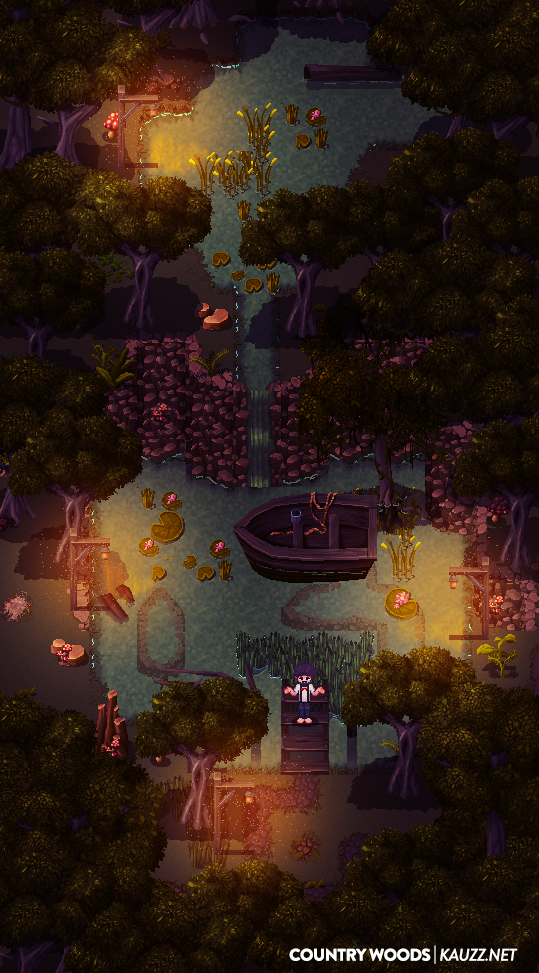 Purchase
In order to download this countrywoods you must purchase it at or above the minimum price of $11.90 USD. You will get access to the following files:
Country Woods V5.zip
7 MB
Comments
Log in with itch.io to leave a comment.
Show post...

Olá, Kauzz! Tudo bem?
Enviei uma mensagem através da aba Contact do seu website.
Aguardo sua resposta.
Um abraço!
Hey, i like this kind of art !
May i ask how many characters included on this pack anyway ?
Hello Amin! There's 15 different sprites, in both gender (male/female), totalizing 30 characters. :)