Pixel Valley | Winter Forest (16x16)
A downloadable asset pack
An pixel art tileset (16x16)
Based on SunnyLand, by Ansimuz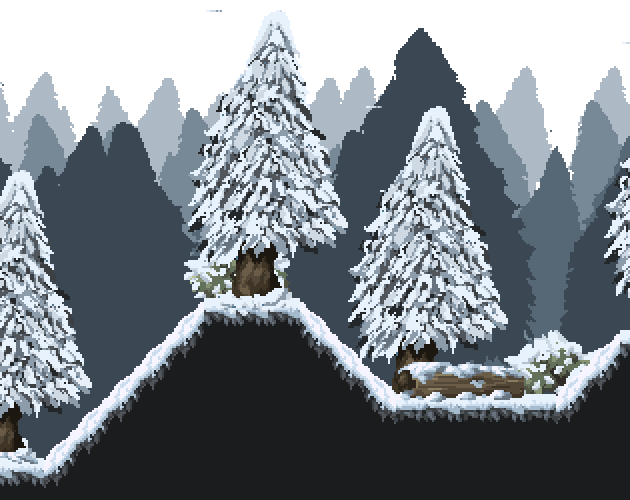 Build winter forests with this new asset pack totally free! Use your imagination to make snowy ambients for your plataform games. Contain basic plataform/terrain tiles, 6 Pine trees (different sizes) and some objects!

If you will use on an commercial game, please donate (any value) or buy. :)

Free to use on non-commercial games. (Give credit, this is a way to find your game and play or share on my websites)


Bundle Rewards/Goals:
- $40 - Forest and Cave pack Revamped
- $60 - New free pack (Desert/Beach)
- $100 - New free pack (Pine Forest)
- $150 - Animated sprites packs (animals, monsters)
- $170 - Icon Pack
- $200 - New pack (Swamp)
- $240 - New pack (Underwater)
- $270 - New pack (Dungeon)
Purchase
In order to download this asset pack you must purchase it at or above the minimum price of $1 USD. You will get access to the following files:
Comments
Log in with itch.io to leave a comment.
Nice, can i use it for my game but it must be donated ? >< thx.
sir, i love ur games and graphics very much. i was and am still and avid fan of platformer games like this. i would love to donate to u as much as u want. but i'm sad to say that i 'm only a 13 and have no money of my own. i'm not lying i swear. i hope u will understand :(
Hello Bondaface!
No problem, you can use it for free! :)
Me neither, but one thing you can do to help is if you use this tilesheet for a game or something, simply credit them :D
Do you have any 64X64 tileset? I love your art!!
wow looks really nice do you mind if i use it in my free android game of course you will be credited
What if I don't have any money
Amazing! So the commerial rule is that if I will use this in a game and upload it on Google Play store its ok as long as I will donate you lets say 10$ ? :O